REALTORS® in Action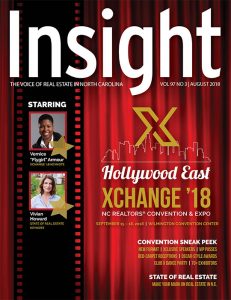 Founded in 2004, the NC REALTORS® Housing Foundation provides affordable housing opportunities through education and community-based initiatives including disaster relief. The directors of this charitable organization believe that REALTORS® are the leading voice for strong communities and housing affordability for all. This means that when disaster strikes, NC REALTORS® mobilize to aid those in need.
By: Nicole Arnold
On the evening of Sunday, April 15, an EF-2 tornado struck Guilford and Rockingham counties. NC REALTORS® and its Housing Foundation immediately deployed a plan to meet the need of those victims who lost their housing from these storms.
Step 1: Meet the immediate need
By Monday, April 16, we began receiving early estimates of storm damage.
NC REALTORS® immediately began asking for donations, including water, food, and other basic necessities for storm survivors. After gathering supplies at our Greensboro headquarters, staffers delivered the goods to temporary first responder shelters for victims.
At the same time, board members and staffers met to discuss the need for later stage mortgage and rental assistance for those displaced by the storm. NC REALTORS® Housing Foundation began accepting donations earmarked for tornado relief in preparation for this.
Step 2: Recovery and clean up
In May, Greensboro Regional REALTORS® Association (GRRA) and Housing Foundation officials collaborated with Community Housing Solutions to clean up neighborhoods affected by the storm. The Matching Grant program from the NC REALTORS® Housing Foundation matched $4,000 donated by GRRA for a combined $8,000 investment in this clean-up effort.
Step 3: Financial Planning and Volunteer Management
By May 14, all temporary housing shelters in Greensboro closed. The dire need for housing began in earnest. The Housing Foundation organized volunteer members for intake at the Housing Hub on Summit Avenue. This collaborative office space provides services for residents who need the aid of the Greensboro Housing Coalition, Housing Consultants Group or Community Housing Solutions. In addition, the specialists there work closely with FEMA, the Department of Social Services and the Greensboro Community Foundation. These cross-organizational methods proved vital for displaced residents who needed multiple resources during their time of crisis.
From May 15-31, NC REALTORS® volunteers helped victims fill out applications for mortgage or rental assistance at the Housing Hub. There, applicants received not only resource aids but also emotional comfort and support in a calm and caring environment. During this time, the NC REALTORS® Housing Foundation fundraising was also underway.
Step 4: Direct Aid to Housing Victims
As of June 19, the Housing Foundation has approved over $61,000 in direct assistance to victims and helped 78 families.
The future and the past of Disaster Management
This is not the first time the Housing Foundation has undertaken a major assistance effort after a natural disaster. After the landfall of Hurricane Matthew in October 2016, NC REALTORS® staff and Foundation volunteers implemented the same project management steps for a much larger storm. Over seven months, we aided more than 300 families with direct mortgage and rental assistance of over $315,000.
We do not anticipate that the 2018 tornadoes will be our last disaster. But our efforts have proven the generosity of REALTORS®, and our project management capabilities have demonstrated our ability to meet the impacted in their communities at their hour of need.
Going forward, the vision of the Housing Foundation remains true and essential: REALTORS® are the voice of community strength. When REALTORS® come together, housing victims can regain their hope and their home. NC REALTORS® should take pride in their public example of endurance and compassion in the face of nature's wrath.
Greensboro Tornado Damage Estimates
1,000
More than 1,000 homes, businesses, and churches damaged
$27,342,425
Single-family home damage estimate
$1,000,000+
Apartment damage estimate
At least 1 death
95%
of the damage affected East Greensboro, the poorest area of Guilford County
Fundraising Efforts
$50,000
From NAR's REALTOR® Relief Fund
+ $2,000
From the Greensboro Regional REALTORS® Association
+ $1,000
From the Winston-Salem Regional Association of REALTORS®
+ $15,000
Earmarked by The Housing Foundation
= $69,000
With other personal donations, the Foundation accrued a total of $69,000 in a restricted fund of direct aid for victims' mortgage or rental assistance.
A Special thanks to our team of volunteers
Kathy Haines
Kathy Carpenter
Brittany Lance
Jason Scott
Diana Davis
Alicia Stevens
Nick Scarci
Ruby Smith
Terri Johnson
Julie LeMond
Laurie Carney
Vicki Crowdus
Caitlin Thompson
Keri Epps-Rashad
Sofia Crisp
Nicole Arnold
Bertha Brown
Denise Daly
Doug Klesch
Aliyah Ross
Welko-Tech LLC
The City of Greensboro